317 architectural and engineering projects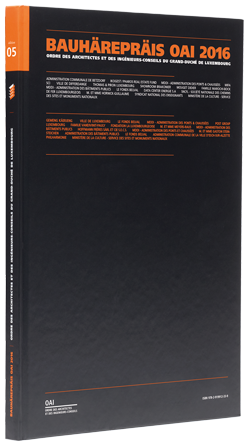 Placed under the high patronage of HRH the Grand Duke, the clients award "Bauhärepräis 2016" is awarded every 4 years to private or public project owners who have been able to emphasize quality architecture, engineering or urbanism through a successful project.
Through their outstanding and sustainable realizations, they support the architectural quality and promote the culture of construction, urban development and planning in Luxembourg. The Bauhärepräis aims to inspire future project owners and make them aware of their important role within the urbanization. Well-
informed project owners provide a cultural renewal within our quality of life with an architecture that is more than just functional.
Discover the large range of supporting documentation, as well as films on the winning projects with interviews of the project owners on www.bhp.lu.
"Références Architectes et Ingénieurs-Conseils"
Foster your culture of construction with the « OAI BRICK », a reference book for architecture and consulting engineering in Luxembourg!
The publication features 750 projects realized by OAI members, giving an insight into the current state of the construction field. It constitutes also an efficient tool to get in contact with the skilled women and men who conceive and realize their clients' individual ideas. 
135 architect offices, 45 consulting engineer offices, 4 interior architect offices, 23 urban designer and master planner offices and 2 landscape architect / landscape engineer offices illustrate the diversity of professions gathered within the OAI. All those independent actors work on smart and sustainable solutions for a better quality of life.
The Guide can be purchased at the OAI secretariat for 25 euros including taxes (6, boulevard Grande-Duchesse Charlotte, Luxembourg / Email : oai@oai.lu / Web : www.oai.lu), and at various libraries; or by bank transfer (25 euros + shipping costs) (Luxembourg : 10 EUR ; other countries : relative to POST LUXEMBOURG rate for package of 2kg www.post.lu) on the bank account OAI: IBAN LU52 0019 1000 4602 3000, BIC BCEELULL , communication « Guide 2016 » and shipping address.
www.oai.lu / "publications grand public"

This second edition of the guide to contemporary architecture features 14 itineraries through the Grand Duchy of Luxembourg and allows 294 exemplary projects of architecture and engineering to be discovered.
The colour code and pictograms should easily direct you through the itineraries. A map illustrates the realizations on each route.
Short descriptions with information concerning architectural aspects, the project owners, architects, consulting engineers, completion date and the address with GPS coordinates are also included.
The indicated municipalities represent stages for each route and invite to discover numerous touristic attractions.
Partager ce projet